Let me preface this post by saying coming up with this list was Hard.  Harder, even, than choosing 101 books for Recommended Reading.  I have been reading (constantly) since I was 4, and I have met many interesting and awe-inspiring characters in all that time.  But I was thinking about the kinds of characters young girls can relate to and look up to, and hoping to give you a peek into the world of awesome characters so you can recommend them to your own littles.  Or enjoy them for yourself like I do.  I admitted in the comments of my last post that I am a huge fan of YA books right now and tend to read them for the most part these days.  The YA world has opened up to include so many genres.  When I was a kid YA meant romance stories or stories that taught you about your period or fluff like Sweet Valley High.  Remember that series? Blah.
There are many more options these days and some of them are even appropriate for chucking the reading level.   Between those options and the plethora of children's books out there, I've picked a list of twenty female characters for your girls (and boys) to fall in love with and admire.
1. Jo from Little Women by Louisa May Alcott
Jo is one of the most down-to-earth, nose-to-the-grindstone characters ever written.  Especially if your daughter has an interest in writing, this is a character she should read about.  Jo writes because she Has To, she doesn't have a choice.  She doesn't let the social norms of her time hold her back.  She knows what she is supposed to do in life and she does it.  The most interesting thing about Jo is how well she knows herself.  Instead of rushing into marriage with Laurie, the cute boy next door, she realizes she is meant for bigger things.  She knows she's hurting him, but she turns him down.  Why?  Because that's not where her heart is.  If you want someone to teach your littles how to be true to themselves, Jo's your girl.
2. Katniss Everdeen from The Hunger Games by Suzanne Collins
Regardless of what we may feel about how the films turned out (angry and betrayed, anyone?), the book character of Katniss is strong and loyal and never gives up.  She Believes In Family.  When her little sis gets called up to participate in the Hunger Games, Katniss doesn't hesitate to volunteer to take her place.  It puts her in bad situation that only spirals.  The Hunger Games is one of my favorite trilogies ever written because we watch this girl go from surviving to leading and even though others don't always understand her motives, we as readers know they all stem from the same place–she loves her family and will do anything to protect them, even go to war.  What other reason could there be to cause so much ruckus?
3. Mary Lennox from The Secret Garden by Frances Hodgson Burnett
Here's a little girl who has lost everything–not that she really had anything to begin with.  Her neglectful parents have died in India and left her without a home.  The only place she has to go is her uncle's mysterious manor in England.  Mary starts out a lonely, distant, off-putting brat and ends up opening her heart, finally, for the first time in her life, all because of a garden she finds locked up on the estate.  She makes friends.  She starts to Care.  If you want your children to see how different the world is when you care about people and are kind to them, this is the book.  Mary learns to think beyond herself and turns her tragedy into an epic of hope.  She is also the poster child for determination.  Turning that garden into something useful and appealing takes a lot of work and willpower.  I wish she'd come work on my garden.
4. Winnie Foster from Tuck Everlasting by Natalie Babbit
Winnie has a very small world at the beginning of this book.  Her parents are more overprotective than I am.  She isn't allowed out of her fenced yard, has never explored the woods just outside the gate, has never disobeyed the rules.  Until she decides to disobey the rules.  The adventure that follows teaches her more about herself than she could ever have learned had she continued to be obedient.  Winnie is brave.  She is fiercely loyal.   She puts herself out there for something she feels is right and saves the day.  If I ever get wrongfully imprisoned, I hope Winnie Foster is around.  Winnie could teach your littles a thing or two about how to handle new situations while keeping their heads.
5. Ramona Quimby from Beezus and Ramona (and other books) by Beverly Cleary
Let's face it.  Ramona's indomitable spirit lives in every single one of us. Sure, she's obnoxious.  But the underlying reasons, laid out so well in Ramona the Pest, are completely understandable.  She's young.  The youngest.  It's hard sometimes to get attention and every child wants attention.  She also wants Every. Thing. To be fair.  So even though we know fairness sometimes can't come into a situation (such as what she is allowed to do compared to what Beezus is allowed to do), we find ourselves cheering her on.  By the time Ramona reaches Age 8, she is starting to come to grips with her feelings about the world.  She realizes that while her family is not perfect, neither is she, and she starts to understand that sometimes things just aren't going to be nice.  Ramona is awesome for belly laughs, but she also shows kids that they aren't the only ones in the world with mixed feelings about how things work.
6. Laura Ingalls from the Little House series by Laura Ingalls Wilder
Ah, Laura.  My childhood hero and best-est book friend.  Not only did I enjoy the books, I never missed an episode of the television program based on them.  Laura was a feisty little scamp.  She taught me how to be a farmer.   I was a city girl back then with a longing for the country life I never wanted to admit to Anybody.  (Fortunately I grew out of that, or I wouldn't have this incredible farm.)  She taught me how to get even with the evil Nellies of the world.  She taught me about honesty, appreciating what I have, and how awesome it is to be a teacher.  Her relationship with her father was so many light years away from my own that it gave me hope and showed me the kind of man I would look for when I grew up.  Sure, these books are great for teaching your littles about pioneer days.  But they're also great for little girls starting to find their way in the world and needing someone to emulate.
7. Alice from Alice's Adventures in Wonderland by Lewis Carroll
I don't know if it's Alice so much as Carroll's amazing skill with words that makes me include her in this list.  Alice is curious and impulsive and even though Carroll shows us through her changing size that she is too old for such childish adventures, she refuses to let go of them just yet.  How many of us have struggled to hold onto childhood in some way?  (One of the reasons I love having Littles is that they keep my imagination fresh and feeling young.)  Like Winnie Foster, Alice begins as a polite rule follower.  She is concerned for the approval of adults and works hard not to appear ignorant in front of them.  However, she is also pretty self-absorbed and tends to frighten or offend others without meaning to.  At least she always apologizes for it.  The cool thing about Alice is watching her find out who she really is through all her misadventures.  And Johnny Depp plays a dope Mad Hatter, so watch the film.
8. Veruca Salt from Charlie and the Chocolate Factory by Roald Dahl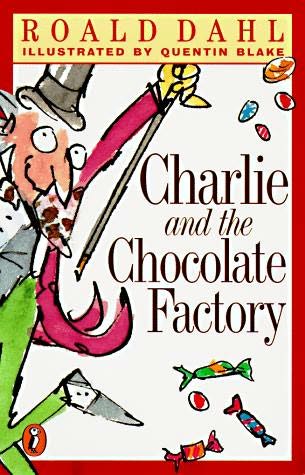 Now here's a character I love to hate.  Veruca is the antithesis of what I want to be.  And yet, I love to read about her.  She makes me laugh; she's so absurd.  Veruca is one in the list of characters who get punished by Willie Wonka because of their bad behavior.  In Veruca's case, it is being spoiled and demanding and thinking she can get whatever she wants from whomever is around her that gets her tossed down a garbage chute.  She's great for teaching your littles how Not To Behave.  And then there's the overall theme about good behavior being rewarded while bad behavior is punished.  Win-win.
9. Nancy Drew from the Nancy Drew Mysteries by Carolyn Keene
I discovered Nancy Drew when I was 8 or 9, and even though I loved the
mysteries, my favorite part was the glimpse I got into the teenage world.  Nancy and George and Bess had Boyfriends, something I couldn't imagine having while at the same time couldn't wait to experience.  Nice, polite, respectful boyfriends, too, who totally understood when the girls had to traipse off to unknown parts for a little crime-solving.  Also, Nancy Drew Used Her Brain without caring that it was the early 1980s when I was reading her and the women's lib movement was still fresh enough that our mothers still encouraged us not to let boys know we were smarter than them, because boys didn't like that.  I've mentioned in an earlier post that I went through a period when I wanted to be a detective, and I think Nancy Drew contributed to that.  Strong, smart, brave, and sassy, Nancy Drew is an awesome character for little girls.
10. Princess Irene from The Princess and the Goblin by George MacDonald
My mama brought me back a copy of this book from one of her trips to Canada for the Shakespeare Festival in Stratford.  It transported me.  It was perhaps my first full-length fairy tale/fantasy and Irene was one of the first true feminine heroes I read about.  She lived in a castle, and that was cool, but she was a regular girl and that was cooler.  And what girl wouldn't like to have a melted star in each of her blue eyes?  (Or blue eyes, because ya know, mine are brown, and I think I would have rocked blue eyes with my dark hair. haha)  Polite, considerate, and truthful, Irene insists on keeping her promises (and we all know we shouldn't make promises unless we intend to keep them).  Not only does Irene teach these attributes, her spiritual journey is full of allegory, making hers an even more pleasing adventure.  Thanks, Mama, for bringing her to me. 🙂
11. Ani from The Goose Girl by Shannon Hale
Shannon Hale is one of my all-time favorite YA authors.  She is brilliant at imagery and pace.  The Goose Girl is, of course, based on the fairy tale, but there are such great additions that Hale was able to turn the setting into a trilogy that is pretty spectacular.  Ani can communicate with animals, a magical gift she is taught to control by her aunt.  When she grows up, Ani finds that people distrust her magic and her mother forces her to journey far from home in order to marry a foreign king.  As she travels, her lady-in-waiting, Selia, turns on her, using her escort's distrust of Ani's magic to supplant Ani with Selia.  So Ani has to end her journey like a peasant, ending up getting a job as the king's goose girl while Selia pretends to be the princess come to marry the king.  Ani is kind, though, and generous, and strong, and eventually the king discovers her quite by accident and all comes right in the end.  If you're looking for a way to give your daughter a fairy tale with a realistic heroine, you can't go wrong with The Goose Girl.
12. Cassia from Matched by Ally Condie
My favorite thing about Cassia is her love and devotion to the written word.  She lives in a dystopian society where every single choice about her life is made by The Society.  Her job is chosen.  Even her spouse is chosen in a fancy ceremony.  But a mistake is made, and Cassia ends up having to choose between her best friend, Xander, and Ky, the boy who teaches her about words.  She is confused because The Society never makes mistakes, yet her feelings for Ky are insurmountable.  The beauty of that love is that it makes her question everything about The Society and how bad it really is to have all our choices taken from us.  Cassia's willingness to follow her heart and trust her instincts is another way to show your littles how to be brave and stand up for what is right.  And it's a rollicking adventure.
13. Leslie Burke from Bridge to Terabithia by Katherine Paterson
Who couldn't love a girl who is artistic, creative, and imaginative and who loves both to read books And play outdoors?  Leslie Burke is one of my all-time faves because she believes in the magic of her imagination and because she knows what it means to be a true friend.  And she doesn't watch television.  What's not to love?!  Her death is heartrending, but it is also a good illustration of how friendship is a legacy that stays with us and gives our lives beauty.  Paterson wrote the story to help her own son deal with the death of a friend, so it is both poignant and sensitive.  And Leslie is unforgettable, even for us lowly readers.
14. Charlotte from Charlotte's Web by E.B. White 
I know, there's a bit of a theme here about girls who like words.  But Charlotte is one of the reasons I love spiders.  When we moved to the farm I told Martin I wanted Charlotte's web with all the animals and he happily obliged me.  We've had pigs, geese, goats, cows, ducks, and even more (but thankfully no rats).  I even made a sign out of an old wreath and that fake spiderweb you can get around Halloween that said, "Some Pig."  Because Charlotte rocks.  She's intelligent.  She's good with words.  She's compassionate.  She's strong.  She's generous.  She becomes a mother.  Um… if your littles haven't read this yet, read it to them now!
15. Abilene Tucker from Moon Over Manifest by Clare Vanderpool
Abilene is so awesome.  Her rough-and-tumble approach to life reminds me of myself in childhood.  So curious, so vibrant, so unwilling to let mysteries remain mysteries.  I didn't read this book until a year or so ago, but Abilene quickly captured my heart.  She's a good character for teaching your littles how to handle new situations and how to follow through with determination and heart.  Plus, this book is great when you're studying either the Depression or WWI, as the story flips back and forth between the time periods.  And the writing is superb.
16. Grandma Dowdel from A Year Down Yonder by Richard Peck
Oh, Grandma Dowdel.  You crazy old bat.  You made us laugh.  You made us cringe. 
You were… one smart cookie with a lot to offer.  Since the story is told from the point of view of young Mary Alice (a supreme character in her own right), Grandma Dowdel is at first an awkward, embarrassing mystery.  The Littles and I were fortunate to have picked this book up before its prequel, A Long Way from Chicago, so we appreciated Grandma's nuances without having already been introduced to her.  By the end of the book, Mary Alice has recognized the deep and abiding love that is inherent in Grandma Dowdel, and the reader has walked the zany, hilarious path to that conclusion with her.   I could read about Grandma Dowdel all day long.  What a cool old lady.  May I be that cool when it comes time for grandkids.
17. Jane Eyre from Jane Eyre by Charlotte Bronte
Jane is another tough bird.  After being sent off to a dreadful orphanage by her dreadful aunt, she survives to become a governess for the incomprehensible Mr. Rochester, perhaps the most romantic figure in literature, ever.  Of course, all the truly Gothic freakiness and mystery is part of the charm, but Jane's spirit and her way of dealing with all the oddness thrown her way are the real stars.  Maybe save it for tween-teen girls, depends on your own feelings about the book, but Jane is definitely someone every girl should meet at some point while they're still young enough to be influenced.
18. Scout from To Kill a Mockingbird by Harper Lee
Scout… Proud spirit, defender of right, lover of Atticus and Jem.  Hands down the greatest female character ever written.  To read about the Worst Human Flaw Ever (prejudice) through the eyes of Scout is to truly see how preposterous prejudice is.  We all know that children aren't born with prejudices.  Rather, they are taught that revolting emotion.  Beyond that, Scout is sassy, fun, and full of spirit.  There's a reason Harper Lee only ever had to publish one book until this year.  And a reason I am counting the days till July 14th, when I can get hold of the new one…
19. Tally from Uglies by Scott Westerfield
The amazing thing about Tally is that she's written by a dude.  That said, if you haven't read The
Uglies series, go do so.  It's such a cool way to say that we shouldn't be so focused on appearance, that sometimes our flaws are what make us beautiful, and what we look like is not nearly as important as who we are.  Tally is a thoughtful person who has her views on the world turned upside down by her new friend, Shay.  Tally has been waiting her whole life to turn 16 and get the operation that will make her a Pretty, but Shay doesn't want to be made Pretty.  She wants more from life.  What follows is brilliant dystopian ruination in which, once more, we are made to realize that we really are better off having choices–both in what we do and how we look.  And Tally is one kick-butt heroine throughout the series.
20. Hazel from The Fault in Our Stars by John Green
Hmm.  If you've read this book, you know how just thinking about it can overwhelm you.  Hazel is dying.  Of cancer.  And she is the wisest, funniest, snarkiest, most amazing creature.  She knows all about hope and the lack of it.  She falls in love anyway.  She says herself that she is a ticking time-bomb, set to crush everyone she lets in.  She lets Gus in anyway.  She Lives While She Can and that in itself is a lesson for all of us.  She is brave and strong and true.  Even my beautiful husband says Hazel's story is the best love story he's ever seen.  Sorry.  I can't find enough words.  Read it.  Let your littles read it.  Especially if they know someone surviving cancer.
As I said, I had to leave characters off this list to narrow it down to 20.  Please feel free to add your own favorite female characters in the comments.  And tomorrow?  Well, tomorrow we'll celebrate the boys.  In the meantime, any of the books on this list would make great summer reading.  So have fun.
Love wins,
KT